And the winner is…
2 Wochen hatten unsere Follower Zeit für die Abstimmung einer Spendenorganisation. Mit heute steht der Gewinner fest!
Sehr deutlich, mit über 50% der Stimmen, hat sich die Mission Hoffnung durchgesetzt.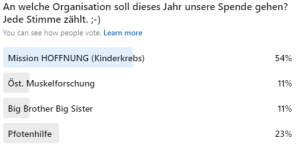 Schon in wenigen Tagen werden wir persönlich einen Scheck überreichen und freuen uns als gesamtes Team einen wichtigen Beitrag leisten zu können.