Children, how time flies - 10 years primeone business solutions gmbh
Can this really be true? Is it really true? Has it really been 10 years?
For once, the answer is not 42, but simply "yes"... for 10 years now, we as primeone business solutions have been offering modern and leading solutions for our customers.
What makes it special, however, is the fact that we were and still are a cloud specialist from the very first minute. If you think back a little, you can certainly imagine that this was not always easy. However, the belief in the agile approach and our ambition to quickly deliver added value to our customers with cloud solutions paid off in the end. We therefore see ourselves as pioneers of the cloud, or you could also say that we discovered the cloud early on... just like fire was discovered in the Stone Age. Symbolically, we have dressed up as a primeone team and are reliving the individual eras.
At the very beginning there was the primeval man... as we also affectionately call him Martin (our founder and managing director).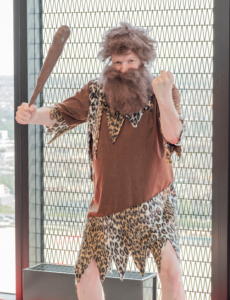 He set out to make the world a better place and deliver better business solutions to people.
On his journey, however, he realised that it takes a good team... and that's how Martin ended up joining 8 people in the meantime. Together we are rescuing long-lost projects, improving the experience of many end customers and thus contributing to making our world a bit better and more customer-friendly. 🙂
As you can see, from the Stone Age of cloud computing to the future, we are your reliable partner for everything to do with marketing, sales, service, field service and integration and process management. Rely on real cloud specialists and take the path into the future with us.
As a multiple award-winning partner of Oracle and Microsoft, we are looking forward to the next 10 years.