The European Handball Federation relies on Oracle Identity and Integration Cloud Service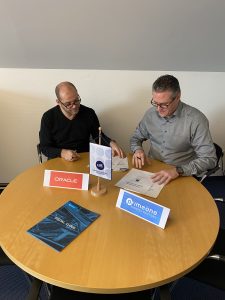 On Friday, 07.02.2020, the next step in the strategic cooperation between Oracle, primeone and the European Handball Federation was finalised. Together with Christoph Gamper (CIO) and Martin Hausleitner (Secretary General and COO), the contracts for the Oracle Identity and Integration Cloud Services were signed.
In the future, handball fans in Europe will be verified via SSO on the basis of the Oracle Identity Cloud and thus gain access to events, video streams and much more. The Oracle Integration and Process Cloud was chosen as the integration solution. The focus here is on the fast and simple connection and monitoring of cloud and on-premise system interfaces.