Gartner Lead Management Report
Many companies have data, but do far too little with it. This is particularly evident in the area of lead management. Here, it's about the interaction between marketing and sales, and the targeted evaluation/scoring of the corresponding buyer interactions. And anyone who believes that lead management is only something for B2B companies is mistaken. Especially when it comes to complex products or a long selection process (I'm thinking of private house building), lead management solutions can deliver real added value for everyone (suppliers and buyers). The trick is to make the interactions with a buyer as targeted and personalised as possible and to provide the salesperson with all the information at a glance.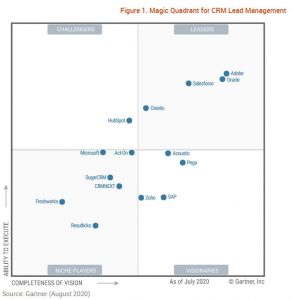 The latest Gartner report (dated 17 August 2020) once again shows which solutions are considered leaders in the Magic Quadrant for CRM Lead Management. With Oracle CX, we therefore offer you the appropriate and one of the leading solutions.