DIGITAL ASSISTANT
Whether Alexa, Google, Siri or Cortana… digital assistants are regarded as the new stat-of-the-art. Once activated and networked, they provide information and answers about your products and services on demand. Analysts assume that the number of language assistants will rise to 100 million by the end of the year, which would be more than twice as many as last year. By the end of 2020, 225 million assistants are expected to be in use around the globe.
AI CHATBOT STATISTICS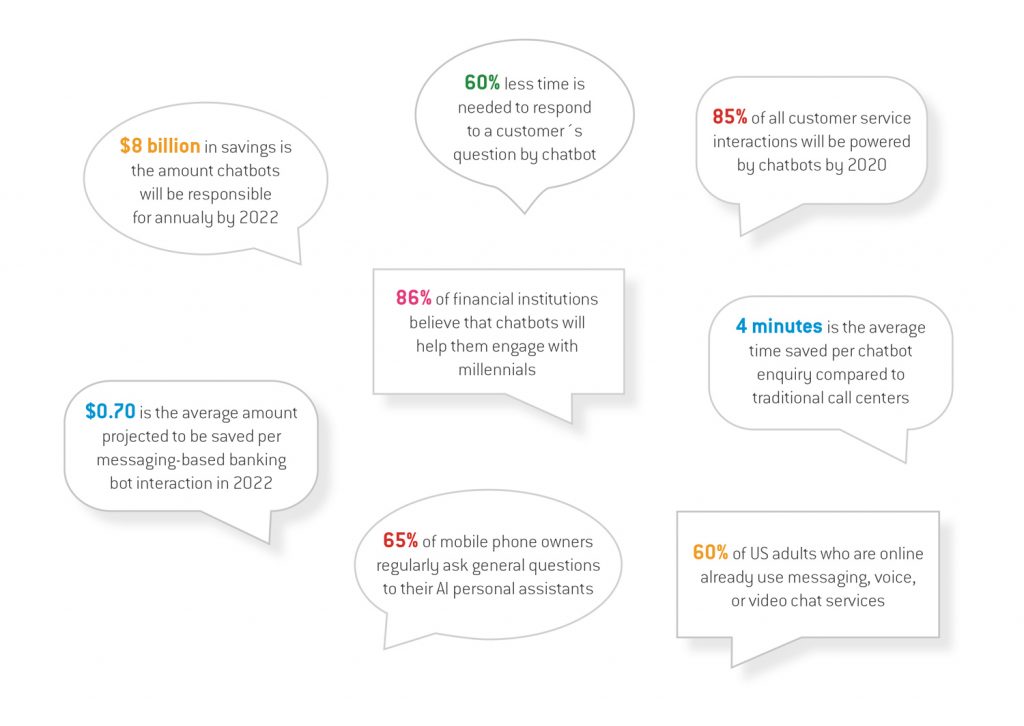 Challenges
Resolve fan queries related to the tennis tournament fully and precisely to improve the fan experience and present the tournament as a perfectly organized event
Acquire spectators for future years, and address younger target groups by using modern channels for fan communication
Emphasize the status of the tennis tournament as an innovative event
Ensure disruption-free fan communication, even at peak times during the tournament YOUR PERSONAL TOURNAMENT BUTLER
Goal of our solution
Empower Service Staff
Empowered service staff with more time to deal with queries that could not be sent an automated response, since they were relieved of answering standard queries— noticeably improving service quality for tournament spectators
Artificial Intelligence
Laid the cornerstone for the continuous expansion of the knowledge base for increasingly targeted responses to fan queries with the Oracle Digital Assistant, which is capable of learning thanks to artificial intelligence— further improving communication and interaction experience for tournament fans and spectators
Organization Improvement
Enabled detailed conclusions about fan and spectator needs and wishes based on the collection and analysis of fan  questions made possible by the Oracle Digital Assistant, allowing further improvements for tournament organization and workflows
24/7 Fan Communication
Guaranteed uninterrupted 24/7 fan communication thanks to the Oracle Digital Assistant's scalable technology, even at peak times during the tournament when numerous queries are received simultaneously
Highest Communication Standard
Ensured the highest standards of communication under all circumstances—thus ruling out emotional responses when, say, individual employees may be under stress, or when individual fans or spectators make inappropriate remarks—a  further contribution to fan satisfaction with the event and organizer
Increase Effevtiveness
Increased effectiveness with regard to training the tournament's customer service staff, whose focus is now on the  personalized processing of complex individual questions instead of on answering standard questions.
Our Tool
With Oracle Digital Assistant, you can develop and deploy apps and intelligent digital assistants that connect to any backend system. Whether for popular messaging apps like Facebook Messenger and Slack, language assistants like Apple Siri and Amazon Alexa, or to add a chat feature to your website – Oracle's intelligent assistants support you on every  channel.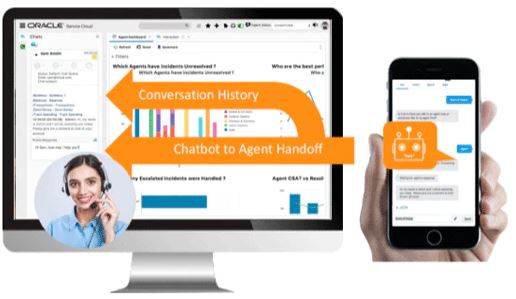 Customer reference
"The Oracle Digital Assistant opens up new perspectives for our fan communication around Europe's fifth-biggest ATP tournament, the Erste Bank Open 500, because we can provide more targeted information in a faster way. We present  tennis as a modern sport, address younger target groups, and we are acquiring the audiences of the future. At the same  time, we are optimizing the image of the main sponsor, Erste Bank."
Herwig Straka
CEO and Founder, e|motion management gmbh
"As ATP250 tournament in Stuttgart and with Mercedes Benz as main sponsor, technical innovations are very important to us. Besides the preparation and the execution of the event itself, we wanted to offer our visitors the opportunity to get in touch with us as a tournament organizer and to learn more about the tournament as such. Therefore we decided to use a chatbot (tournament cavalier). Our tournament cavalier provides the answers to the most important questions and guides our guests safely before, during and after the tournament. We have implemented the project with our implementation partner primeone business solutions and would like to thank them for the fast and smooth implementation."
Simon Schleich
Managing Director at e|motion sports GmbH Germany
It´s all about the money
Within our solution you will get a bunch full specific Tournament relevant processes and best-practises.
2 Languages: English + 1 other language
Web Channel – Chatbot available on the website
Handles up to 30 FAQs
Understands the following Intents based on the Tournament Butler. The answers the bot delivers per Intent will be customized during the chat bot development (Texts, Images):
Greeting, Player Profiles, GoodBye, Press Area, Opening Hours, Program, Contact information, Seating plan, Game plan, Security, Location plan, Tickets, Game results, VIP Tickets, Livescores, Tournament Magazine …
Create up to 3 new custom intents post go-live, review of asked questions and bot training until 4 weeks after go-live or after a specific sport event ends.
get your Digital Assistent for only 15.000,- Euro excl. VAT
Available as
| Option / in addition | Price |
| --- | --- |
| Additional 30 FAQ | € 2.000,00 |
| Facebook Channel | € 3.000,00 |
| New Intent (each) | € 1.000,00 |
| Additional Language | € 3.000,00 |
| Support | € 1.000,00 per month |