INTELLIGENT CHATBOT SOLUTIONS
With chatbot technology from Oracle and Microsoft, we set up our chatbot/digital assistant for you with the help of artificial intelligence (AI), machine learning (ML) and a series of definable rules and parameters. Chatbots are always accessible via text and speech. For example, we can connect the chatbot to your homepage, via Facebook Messenger or via a voice assistant such as Amazon Alexa.
At the end, your customers have a conversation with a bot that can perform certain tasks for you or answer your customers' questions. Are you looking for a customer service chatbot for your company? Then this is the right solution for you.
The bot can form the "first line of defence" and, based on rules or at the request of the customer, hand over the conversation at a certain point to a real chat agent in the call centre. The complete chat history is of course retained. For example, based on an integrated knowledge database in the CRM or ticket system, the call centre agent can quickly and effectively take over and conclude the conversation.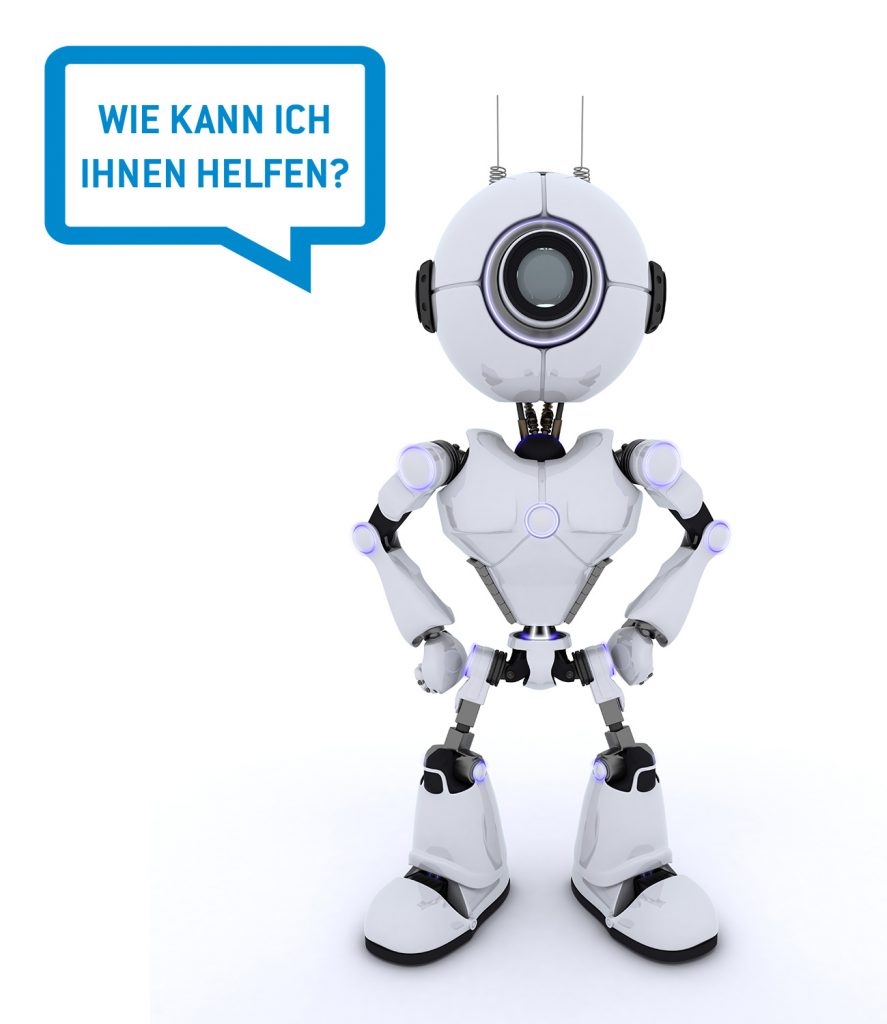 AI CHATBOT STATISTICS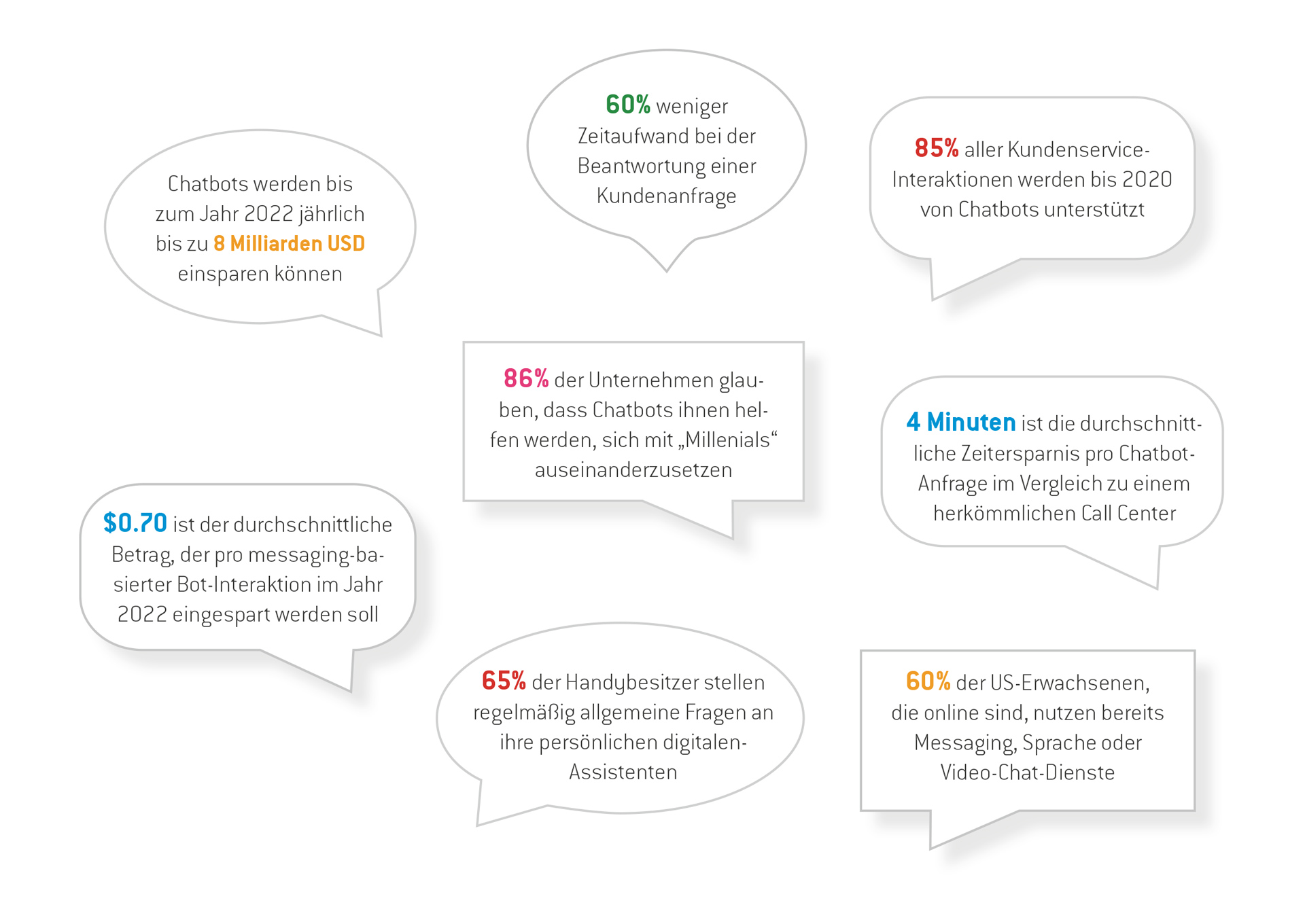 OUR SOLUTION APPROACH
OMNI channel connection
No matter which channel your customers are in - we integrate your chatbot on every channel that is important for you and your customers. Regardless of whether we connect the chatbot classically on the homepage, the various messenger platforms or via voice assistants, such as Amazon Alexa - the same database is always in the background.
Integration and processes
Since every company already has systems (e.g. CRM or ERP) with relevant data in use, we also offer them the option of connecting these databases to the chatbot or executing actions in these systems. For example, after a successful chat, a customer satisfaction survey can be sent, which opens a ticket in your CRM or service solution in case of a negative evaluation.
Easy to use
The main focus of each of our chatbot implementations is to quickly train their colleagues in the department on the user interface after the initial setup of the chatbot. This enables them to edit questions and answers themselves and thus to create improvements and new conversations independently.
Conversation modules
Since not everyone wants to work with the corresponding development environment, we also offer a cooperation with one of the leading conversation module providers especially for Oracle customers. As a botsupply partner, we can additionally access our own NLP platform here, which supports more than 30 languages.
Our project procedure in 3 steps
Analysis phase:
In this phase, we work with you to determine the essential requirements for a chatbot solution. We start with a kick-off meeting, on the basis of which further workshops are planned and held.
Kick-off meeting
Workshops to define the exact requirements
Drawing up a detailed schedule of events and specifications
Implementation
After the analysis phase, we can implement the first implementation steps and begin with the setup of the respective chatbot solution. Ongoing tests, in which we always involve you, ensure that the set goals are achieved on the basis of your defined requirements. Since we work in very short sprints (1 - 3 weeks), it is also ensured that we are always in contact with you.
Setup of the respective chatbot solution, implementation of the first questions and answers
Integration of external services and systems and initial testing
Setup and training of the rule/ AI engine for dynamic questions and answers
Post Go Live Support
After our implementation, your chatbot goes into ongoing operation. Thanks to the ongoing upgrades from Oracle and Microsoft, your bot continues to develop fully automatically. Nevertheless, special services and training are now required to make the chatbot even better and more intelligent. Benefit from our expert knowledge and purchase targeted add-on services.
We train the bot with e.g. 100 additional test questions
We create new intentions for you based on the questions asked
We are the first point of contact for further requirements Experience sporting events on a new level with our

primeone SPORT and Event BUTLER
CUSTOMER REFERENCE
"The Oracle Digital Assistant opens up new perspectives for our fan communication around Europe's fifth largest ATP tournament, the Erste Bank Open 500, because we can provide more targeted information faster. We present tennis as a modern sport, address younger target groups and win the target groups of the future. At the same time, we optimise the image of the main sponsor Erste Bank."
Herwig Straka
CEO and Founder, e|motion management gmbh
"As an ATP250 tournament in Stuttgart and with Mercedes Benz as the main sponsor, technical innovations are very important to us. In addition to the preparation and running of the event itself, we wanted to offer our visitors the opportunity to get in touch with us as tournament organisers and to learn more about the tournament as such. Therefore, we decided to use a chatbot (Tournament Cavalier). Our Tournament Cavalier offers answers to the most important questions and accompanies our guests safely before, during and after the tournament. We implemented the project with our implementation partner primeone business solutions, whom we would like to thank for the fast and smooth implementation."
Simon Schleich
Managing Director at e|motion sports GmbH Germany
What do you cost/get from our sports and event butler?
Within our solution you get a set of tournament/event specific processes and best practices out-of-the-box.
Two languages: English + one other language
Web Channel - Chatbot available on the website
Management of up to 30 FAQs
The following intents are provided (the answers provided by the assistant per intent are adjusted during the development of the chatbot):
Welcome, farewell, player profiles, press area, opening hours, programme, contact information, seating plan, fixture list, security, site plan, tickets, scores, livescores, tournament magazine.
Create up to three additional new customised intents after go-live. Review the questions asked and bot training up to four weeks after go-live or after the completion of a specific sporting event.
Get your Digital Assistant for only 20.000,- Euro excl. VAT.
Optionally available
| Optional / additional | Price (excl. VAT) |
| --- | --- |
| 30 additional FAQs | € 2.000,00 |
| Facebook Messenger | € 3.000,00 |
| (each) new intention | € 1.000,00 |
| Additional language | € 3.000,00 |
| Amazon Alexa | € 8.000,00 |
| primeone support | from € 1.000,00 per month |